About our Sponsors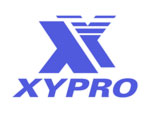 XYPRO® Technology Corporation was founded in 1983 to provide consulting services and software products to companies who manage and transport business-critical data on a large or very large scale. Committed to developing mutual respect and accomplishment, XYPRO delivers products and services that help people comprehensively enhance their professional lives and that help companies improve their competitive edge via greater efficiency.
XYPRO specializes in Security Software to improve HP NonStop Server environments. These tools include: Security & Access Control, $CMON, User Management, Password Quality, Object Security, Security Audit Reporting, Strong Encryption and ongoing Security Compliance.
All XYPRO software products have been developed as a result of solving one customer's business or technical problem in a way that suits a variety of highly scaled environments.
Download more info:
Products Overview
Safeguard PRO
Compliance PRO
Access PRO
Encryption PRO
Audit PRO
Database Management Solutions
We Wrote the Book on Security - TWICE

XYPRO
XYGATE®
Comprehensive Security Solutions for the HP NonStopT Server
For more than 27 years, XYPRO® Technology Corporation has provided consulting services and software products to companies who manage and transport business-critical data on a large scale. Our security solutions and services help improve HP NonStop server environments and enhance the jobs of those who operate them.
XYPRO's comprehensive solution offering includes the following software packages: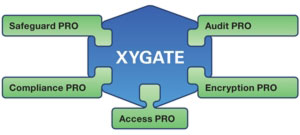 Safeguard PRO
Compliance PRO
Access PRO
Encryption PRO
Audit PRO
Each PRO package offers end-to-end security and consists of specific modules designed to meet the various requirements within its area of specialty.
Safeguard PRO
Safeguard PRO is an enhanced Safeguard management, configuration and reporting package that extends the capabilities of Safeguard with unrivaled user authentication, password quality and object security power. Safeguard PRO allows the security administrator, whose responsibilities can span several computer platforms, to take care of the HP NonStop platform with ease.
Compliance PRO
CompliancePRO is a comprehensive software solution that automatically researches the security on your HP NonStop server, reports the information found, builds policies that monitor the state of the security rules in your environment and compares your existing security against PCI, SOX, HIPAA and best practice policy recommendations. The solution collects data using NonStop server tools and then downloads the data to your PC or a network server then analyzes the data for security, audit and system management information in the current snapshot, compared over time or compared against a set of absolute rules.
Access PRO
XYGATE Access PRO software addresses fundamental HP NonStop security requirements and eliminates the problematic issues most likely to concern an experienced security analyst or auditor. Simply put, granting and denying privileges where necessary in a granular fashion is not possible without a solution such as Access PRO. Access PRO allows users to successfully and efficiently perform their jobs without compromising any angle of system security. The solution provides keystroke auditing, as well as easy access to shared resources while simultaneously limiting use of the shared resource to only the functions required by each user's job retaining individual accountability and auditability.
Encryption PRO
EncryptionPRO provides encryption FIPS 140-2 validated for just about any type of data or communications, on or between computer systems. The solution enables users to encrypt interactive sessions, transaction sessions, file transfer sessions, files, databases and/or fields. Using software-based mechanisms, Encryption PRO provides encryption for not only HP NonStop servers and Windows® PCs, but also Unix®, IBM® OS390, Z/OS and more.
Audit PRO
Audit PRO is a comprehensive security audit tool that enables you to seamlessly meet security, audit and compliance requirements across the entire HP NonStop server network and facilitates the NonStop server's participation in enterprise security. Audit PRO collects, merges, normalizes and writes NonStop audit data to an SQL database. The solution's intuitive Windows® interface allows users to select database items from drop-down lists, drag and drop predefined filter items, write advanced queries and use many other selection options to define events of interest. With Audit PRO, businesses can identify security threats and weaknesses before they become a problem, as well as prevent security breaches from affecting mission-critical systems.
Merlon: Database Management Solutions for the HP NonStop
XYPRO offers Merlon Software Corporation's database management software solutions on a global scale. Merlon's products provide companies who rely on NonStop servers for storing and processing vast amounts of data with the means to efficiently administer even the most complex database environments.
For more information contact Lisa Partridge at Lisa_P@xypro.com
or visit www.xypro.com Also, follow our blog at http://blog.xypro.com
For more information please email xypro@tandemworld.net
To advertise on this site or to become a sponsor please email: info@tandemworld.net